Junction, TX is the hunting center for one of the state's leading deer-hunting counties. The Whitetail density in Kimble County, as determined by the Quality Deer Management Association, is approximately 45+ deer per square mile (2002 census). It is one of the most densely populated areas in the United States.

Although the Whitetail deer is the most widely distributed and hunted deer in Kimble county, it is only one of many animals that is hunted through out the year. Junction,TX is nestled in the middle of Kimble County which boast a large number of hunting ranches as well as leases that offer many types of exotics for hunting year round.

Axis, Fallow deer and Feral Hogs can be found free ranging along the river bottoms through out Kimble County. The Rio Grande Turkey is also plentiful here in Kimble County.

City Data:
Population (year 2000): 2,618.
Estimated population in July 2005: 2,654 (+1.4% change)
Males: 1,210 (46.2%), Females: 1,408 (53.8%)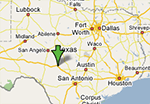 County: Kimble Zip code: 76849
Median resident age: 37.6 years
Median household income: $25,833 (year 2000)
Median house value: $47,500 (year 2000)
Races in Junction:
• White Non-Hispanic (69.5%)
• Hispanic (29.0%)
• Other race (11.1%)
• Two or more races (1.6%)
• American Indian (0.8%)

(Total can be greater than 100% because Hispanics
could be counted in other races)
Ancestries: United States (12.6%), English (8.4%), German (7.9%), Irish (6.0%), French (2.0%), Scotch-Irish (1.8%).
More City Data on Junction, Tx, Click Here